The Best TV Shows And Movies Coming To Netflix In May 2023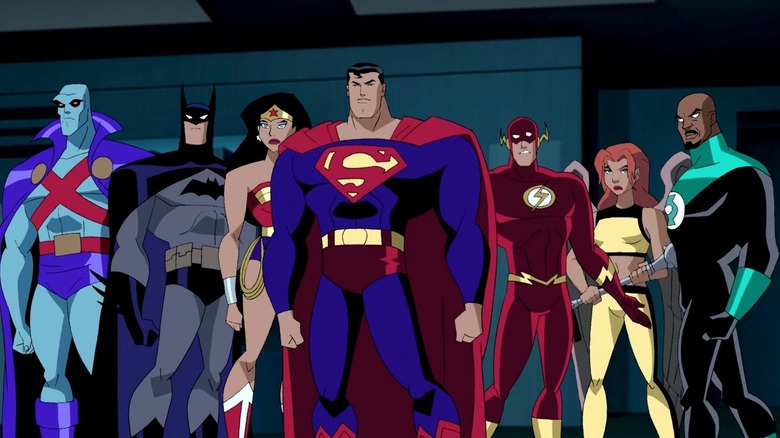 Summer movie season is upon us and with it, the biggest movies of the year are about to compete for your hard-earned money. Will you go see the latest superhero movie? The latest installment in a big franchise like "Fast and Furious" or "Mission: Impossible?" Or perhaps you're more excited about Pixar finally making a return to theaters with a wholly original movie like their ambitious romantic comedy "Elemental." 
Granted, not everyone is comfortable going to theaters while there's still a global pandemic, but the world of streaming is not being left behind; there are just as many big shows and movies available at the click of a button as there are movies in theaters. Netflix is entering the month of May prepared, following the release of the second season hit "Sweet Tooth," and right before the return of "The Witcher." Nevertheless, they are betting big on comedy this month, with new specials from Hannah Gadsby and Wanda Sykes, as well as the triumphant return of "I Think You Should Leave with Tim Robinson," which are sure to deliver both laughs, bizarre situations, and some poignant moments of self-reflection.
Here are our special picks for May, along with everything else coming to Netflix that month. 
Peter Pan (2003)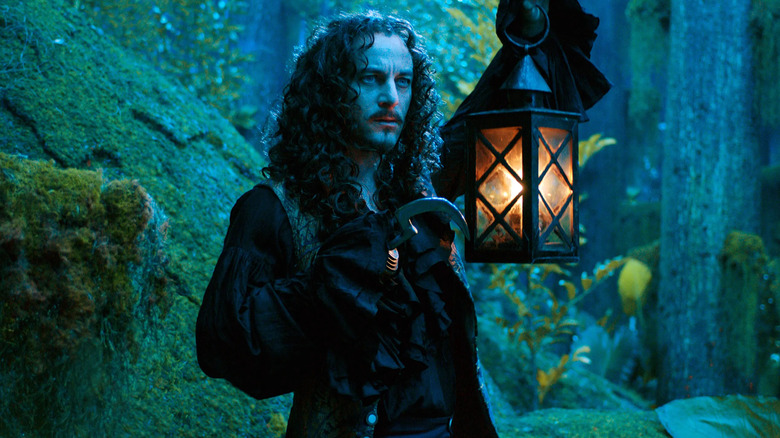 Disney is about to unleash yet another live-action reimagining of one of their classic animated movies, with David Lowery's "Peter Pan and Wendy" (which the director considers his favorite project) about to once again try and surpass the studio's rich animated history. But, the thing about this particular remake is, we already had the perfect live-action version of "Peter Pan." I'm talking about the 2003 film of the same name by P.J. Hogan, starring Jeremy Sumpter as Peter and Rachel Hurd-Wood as Wendy. This is a film that, although not entirely romantic in nature, does masterfully capture those early prepubescent hints of romantic interest hidden behind playfully shy glances, while also presenting Peter as a darker figure with abandonment issues and rather suicidal tendencies.
But there is arguably no greater legacy to this film than having the absolute best Captain James Hook — Jason Isaacs. He didn't need guyliner to be the hottest Hook, and even if his magnificently long curls are a bit ridiculous, Isaacs channels the same delicious blend of evil and charm that he gave to Lucius Malfoy, to make this Hook compelling and alluring.
This Is The End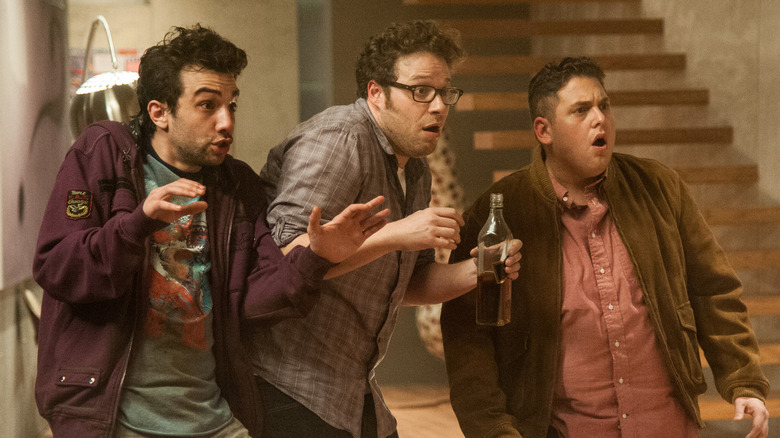 Hollywood actors Seth Rogen, Jay Baruchel, Jonah Hill, Craig Robinson, and Danny McBride find themselves in the middle of a literal biblical apocalypse while at a party at James Franco's house. This may sound like the dumbest idea for a movie ever, but make no mistake, "This Is the End" is one of the funniest movies of the 2010s, and a fantastic directorial debut for Seth Rogen and Evan Goldberg. This movie paved the way for the duo's comic book TV empire, which includes "The Boys," "Preacher," and "Invincible."
This is a fantastic exploration of celebrity culture, and a post-apocalyptic film with a surprisingly good and serious soundtrack inspired by "The Omen." More than anything, though, "This Is the End" is a hilarious comedy with rapid-fire banter and a truly astonishing number of gags and jokes, with one of the best surprises involving a boy band in cinema. This is a raunchy, laugh-out-loud movie that embraces its absurd premise for great results.
Justice League And Justice League Unlimited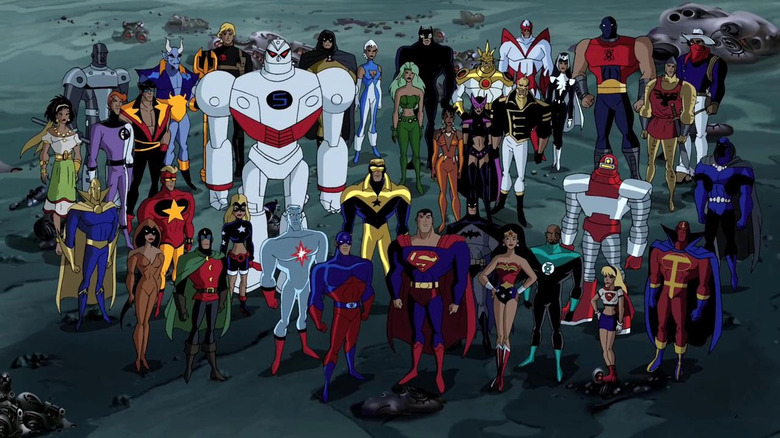 Yes, this is two titles, but hear me out, they really are just the same show. "Justice League" and its third season rebranding, "Justice League Unlimited" are a follow-up to "Batman: The Animated Series," and "Superman: The Animated Series," and arguably the greatest comic book show of all time. Sure, "Batman: TAS" is a classic for many, many reasons, but it didn't fully explore the world of DC the way "Justice League" did. Virtually every corner of the DC Universe is in this cartoon, from the big heroes and villains to the weirder characters like Plastic Man and Booster Gold, with adaptations of beloved comics like "For the Man Who Has Everything" as well as original stories of epic proportions. The influence of "Justice League" can still be felt across the DC multiverse, in shows like "Young Justice" and even James Gunn's new DC Studios.
Chicken Run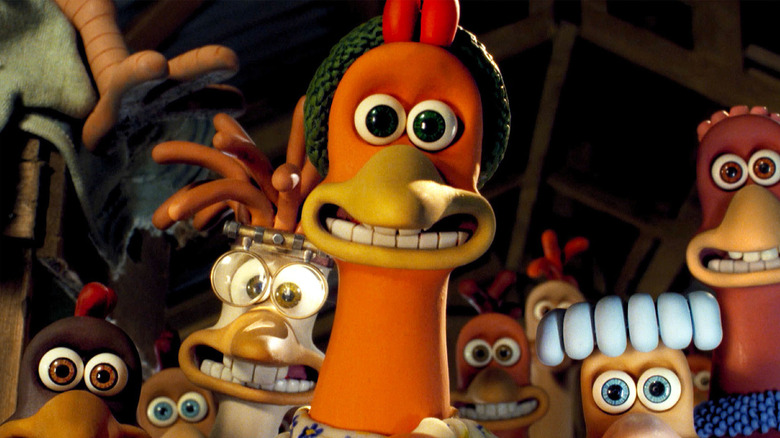 Before "Chicken Run: Dawn Of The Nugget" finally hatches later this year, why not catch up with what remains the highest-grossing stop-motion animated film of all time, and also one of DreamWorks' best films? "Chicken Run" is essentially an animated "The Great Escape," a gorgeously animated movie about a group of chickens who decide to escape from their farm rather than face the death-by-chicken-pie machine. The comedy is fantastic, with Aardman bringing their signature claymation visuals and sense of whimsy to a story that knows when to dial up the bleakness, like jokingly showing the chicken living in what is arguably a concentration camp, or not so subtly making the pie machine terrifying.
Even 20 years later, this is one of the best-animated movies of the century, a film with a killer score by John Powell that evokes '60s adventure movies, and one of the greatest movie villains of all time in the sadistic Mrs. Tweedy.
Starship Troopers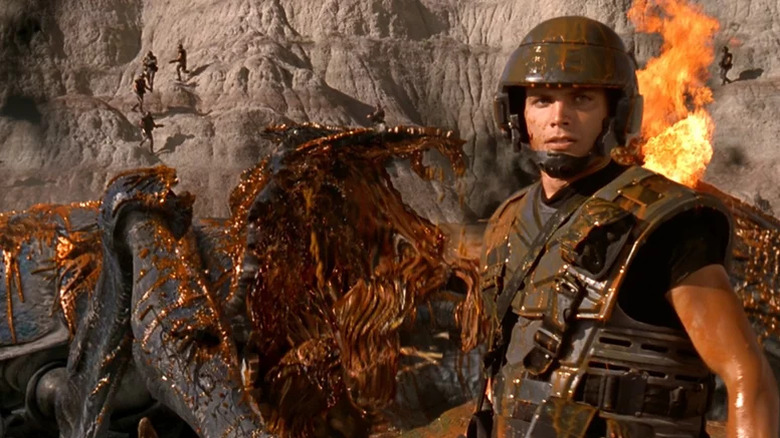 "Starship Troopers" is one of the most misunderstood films of all time. When Paul Verhoeven's follow-up to "Showgirls" came out, critics thought it was promoting fascism (with some accusing Verhoeven of being a Nazi) and audiences just didn't show up for it, so the film was dismissed as just B-movie fare. In truth, this is the movie that truly cemented Verhoeven as a master satirist. "Starship Troopers" is a big-budget movie that serves as a giant middle finger to fascism and military propaganda, using the story of a group of soldiers fighting alien bugs as a way to directly reference and talk about Nazi Germany and how fascism rises through bigotry and hate — all while still being very much a fun and silly B-movie.
Besides, even 25 years after its release, "starship Troopers" just looks incredible, thanks in no small part to the work of ILM and to stop-motion creatures by Phil Tippett, work that helped pave the way for the CG revolution of the '90s and our current CG-filled blockbusters.
Movies And TV Shows Coming To Netflix In May 2023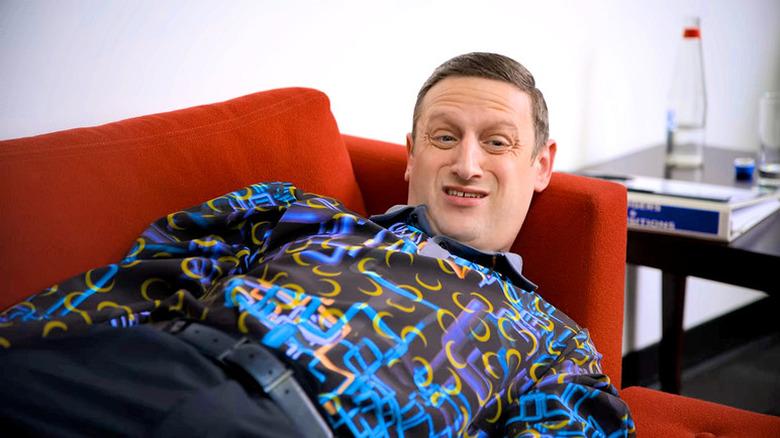 Dates TBA:
Siren: Survive the Island
Available May 1, 2023:
Above Suspicion
Airport
Airport '77
Airport 1975
American Gangster
Austin Powers in Goldmember
Austin Powers: International Man of Mystery
Austin Powers: The Spy Who Shagged Me
Black Hawk Down
The Cable Guy
Captain Phillips
Chicken Run
Cliffhanger
Conan the Barbarian
The Croods
The Curious Case of Benjamin Button
Dawn of the Dead
Flight
For Colored Girls
Girl, Interrupted
The Glass Castle
Home Again
Hop 
Igor
Kindergarten Cop
Last Action Hero
Legends of the Fall
Lemony Snicket's A Series of Unfortunate Events
Léon: The Professional
Marshall
Paranormal Activity
Peter Pan (2003)
Pitch Perfect
Rainbow High: Season 3
Rugrats: Seasons 1-2
The Smurfs: Season 1
Starship Troopers
Steel Magnolias
The Tale of Despereaux
This Is the End
Traffic
Vampires
The Wedding Date
The Young Victoria
Available May 2, 2023:
Available May 3, 2023:
Jewish Matchmaking
Great British Baking Show: Juniors
Available May 4, 2023:
Artic Dogs
Larva Family
Queen Charlotte: A Bridgerton Story
Sanctuary
Available May 6, 2023:
Available May 8, 2023:
Justice League: Seasons 1-2
Justice League Unlimited: Seasons 1-2
Spirit Rangers: Season 2
Available May 9, 2023:
Documentary Now!: Season 4
Hannah Gadsby: Something Special
Available May 10, 2023:
Dance Brothers
Missing: Dead or Alive? 
Queen Cleopatra
Available May 11, 2023:
Royalteen: Princess Margrethe 
St. Vincent
Ultraman: Season 3
Available May 12, 2023:
Black Knight
Call Me Kate
The Mother
Mulligan
Queer Eye: Season 7
Available May 13, 2023:
Available May 16, 2023:
Anna Nicole Smith: You Don't Know Me
Available May 17, 2023:
Faithfully Yours
Fanfic
La Reina del Sur: Season 3
McGREGOR FOREVER
Rhythm + Flow France: Season 2
Working: What We Do All Day
Available May 18, 2023:
Kitti Katz
XO, Kitty
Yakitori: Soldiers of Misfortune
Available May 19, 2023:
Astérix & Obélix: The Middle Kingdom
Kathal - A Jackfruit Mystery
Muted 
Selling Sunset: Season 6
Young, Famous & African: Season 2 
Available May 22, 2023:
The Batman: Seasons 1-5
The Boss Baby
The Creature Cases: Chapter 3
Available May 23, 2023:
All American: Season 5
MerPeople
Victim/Suspect 
Wanda Sykes: I'm An Entertainer
Available May 24, 2023:
Hard Feelings 
Mother's Day 
Rhythm + Flow France: Season 2 — NETFLIX SERIES (new episodes)
The Ultimatum: Queer Love
Available May 25, 2023:
Available May 26, 2023:
Barbecue Showdown: Season 2
Blood & Gold 
Dirty Grandpa
Tin & Tina
Turn of the Tide
Available May 30, 2023:
I Think You Should Leave with Tim Robinson: Season 3
Available May 31, 2023:
Heartland Season 15
Mixed by Erry 
Rhythm + Flow France: Season 2 
The Ultimatum: Queer Love (new episodes)
Read this next: Here's The Complete List Of 2023 Oscar Nominations
The post The Best TV Shows And Movies Coming To Netflix In May 2023 appeared first on /Film.