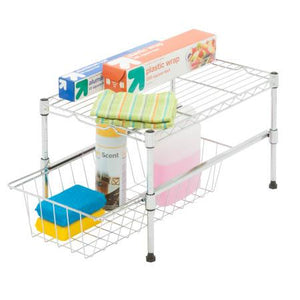 Easy-glide basket provides additional storage for smaller items
Top shelf offers space and keeps always-needed items quickly within reach
Adjustable in height to accommodate cabinet and size of supplies
Dimensions: 17.5L x 12"W x 10.5"H (adjustable)
SHF-04058
Whether in your kitchen or bathroom, there are always those supplies that you need, but you don't want them out in the open. With this cabinet organizer you can keep those supplies and necessity items within reach, and without the clutter. The adjustable height of the shelf allows for easily customizing the organizer to fit your cabinet, or the supplies that need to go in it. And the contemporary design and chrome finish present a polished look when you open the cabinet.