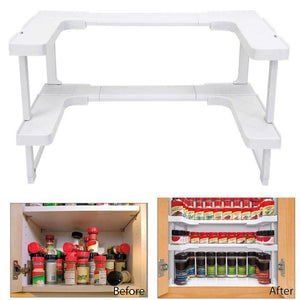 Organize your spices, medicine and much more with the handy Spice Stacker™ . Adjustable height and width to fit into any cabinet, this shelf has a non-slip surface to keep everything in place.
Includes:
Order Monday-Friday by 2PM PST and we ship the same day from our California warehouse!
It installs in a snap - no tools required
Spice Stacker™ fits most cabinets
Its a major space saver and organizer for kitchens, garage storage, tool shed.
Organize EVERYTHING in their cabinets from spices, pill & supplement bottles, fingernail polish, crafts and more!
One set of 2 shelves. Stackable or side by side. 2 different size legs for short or tall spice bottles.
Organize up to 64 spices and see them all at a glance!
Spice Stacker™ is the ultimate stackable cabinet organizer! It can turn a mess of spices into an organized masterpiece!
129 M+ Views On Facebook