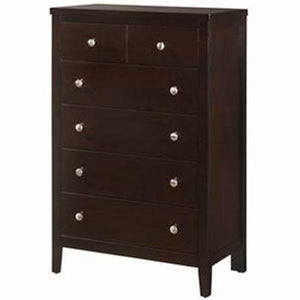 This is the great chest which features an elegant design that will blend in seamlessly with your existing setting.
The chest is constructed of MDF with a pure black finish. So you can use it for a long time. This chest has four large drawers and two small drawers for ample storage while adding beauty and a streamlined look to your living space. And the beauty of the warm, neutral pure black finish is enhanced by metal hardware for a stylish contrast.
Update your bedroom or guest room furniture with the 5-drawer chest. Don't heistate to buy it.
5-drawer chest made of MDF, durable and solid with high weight capacity
5-drawer dresser has an elegant, contemporary design
This drawer chest is available in a variety of beautiful finishes to match any home decor
Smart and stylish storage and organization solution for living room or bedroom
Provides ample space for your storage needs
Metal knobs are easy for switch the drawers
No assembly is required


Color: Black
Material: Rubber wood
Dimension: 17" x 48" x 30" (D x H x W)
Dimension of drawer: 24" x 13" x 5" (L x D x H)
Item weight: 81.5 lbs
Weight capacity: 55 lbs
Package include:
1 x 5 drawers chest