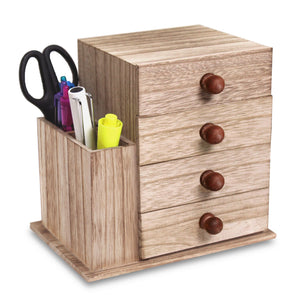 Product Details
This multi-use wooden desktop drawer includes 4 drawers and 2 side compartments. It can be an office supplies case, desktop organizer, and a tool storage box that helps you to store your items and declutter your table.
Features
☑ LIGHTWEIGHT CONSTRUCTION - It's made of lightweight wood with 4 drawers and 2 side compartments.
☑ FEATURES - Each drawer comes with a dark brown round knob.
☑ MULTIFUNCTIONAL STORAGE - It's ideal for storing office supplies, stationery, cosmetics and other accessories…etc
☑ TWO SIDE COMPARTMENTS - It has ample space for storing various items.
SIZE
Overall: 6 3/4"W x 4 7/8"D x 6 1/2"H