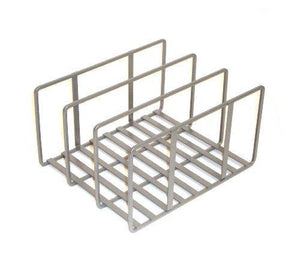 Brand: Seville Classics
Color: Platinum
Features:
Dimensions: 8" D x 10.25" L x 5.5" H
Ventilated base
Sturdy iron construction
Elegant platinum finish
Great for organizing cutting boards, cookie sheets and skillets
Publisher: Seville Classics
Release Date: 2009-12-02
Warranty: 1 year limited warranty.
Details: Keep your kitchen counter, cabinets, pantry, and drawers clutter-free with our Kitchen Pantry and Cabinet Organizer. Made of sturdy iron construction with a ventilated base in a clean and elegant platinum finish. Ideal for organizing cutting boards, cookie sheets and skillets.
UPC: 724137381930
EAN: 0887659754658
Package Dimensions: 10.3 x 8.4 x 5.5 inches
This is not easy to explain. The spaces between the dividers are about 2 1/2" so a platter or dish that was 2 1/2" deep would slide in, and these three spaces make the 8 1/2" measurement. The 10" is the length of each space, so a plate that was 10" in diameter would fit without hanging out either side, though you will …

 
By M. Herrin on February 4, 2014
The divider "rails" are 10" long, and the unit is 8.5 inches wide. Hope this makes sense!
By Donna Freeze on February 4, 2014
It's 10" by 8.5 if you measure the bottom of the rack. 10" is the length of the separators.
By D. Kim on February 5, 2014
Openings are 2 and 1/2 inches wide on both racks I received. They are nice and heavy and work fine for storing my cookie sheets, rectangular cake pans, and large serving platters.
By Libra Sun-Libra Moon on January 11, 2014
The openings are exactly 3" wide. I use mine for storing cutting boards and a couple pretty heavy serving platters that are not breakable. It works very well for my needs. Good Luck.
By Sharon Coker on January 10, 2014
I measured exactly 3 inches between the supports. If you need "at least 3 inches" then this may not work for you. Less than 3 inches will work just fine.
By Donda on January 13, 2014
I've had two for about 7 months. They sit in a lower kitchen cupboard holding pot lids and baking pans, not exposed to water. They still look like new.
By tori j on February 18, 2016
It's chrome plated and I haven't noticed any discolorations so far.
By Joyce R. on February 17, 2016
I use the rack just for cutting boards and no wet items. So far it has not corroded at all
By ajwsmom on February 18, 2016
I have mine in a kitchen cabinet near the stove. It looks like new -- no corrosion.
By WVberninagirl on February 17, 2016
We have had no problems with corrosion.
By Paul Thompson on February 17, 2016
Depends on your environment probably, I live in a humid environment and mine has not corroded in the year I've had it! If you were to use it outside it might though
By Melody on February 17, 2016
No, it doesn't have rubber feet, but the bottom is pretty smooth. You could maybe attach strips of adhesive felt furniture pads?
By jenny on July 30, 2013
No rubber feet. But I recently bought rubber drawer bumpers, I think that would work well.
By Megan V on July 30, 2013
No, it doesn't have rubber feet. However, the material is pretty smooth with no pointy edges. I have been using it a while, but I don't see any scratches on the shelf.
By YM on July 31, 2013