7 Smart Ways To Maximize Your Bathroom Storage
Is it just me or is bathroom storage impossible to figure out? There are either too many cabinets and not enough drawers or vice versa, and I can never figure out what the heck to do with my makeup brushes. Bathroom storage ideas are endless, which is great news because I thrive on an organized and functional space, but choosing which strategies to implement is no easy feat.
introducing: my tried and trues
Whether you are looking to maximize the little bathroom storage you have or simply make your bathroom storage work better for you and your items, let's not forget what we've learned from The Home Edit: start small and trust the process. With that said, we've compiled some of the best bathroom storage ideas to help you finally make sense of storing everything from tampons to toothpaste.
1. Edit the stuff you're storing.
Source: Courtney Equall | Girl & Grey
Is storage space the problem, or is it the amount of stuff you're trying to store? The first step in maximizing your bathroom storage is to edit down your stuff. Go through all your beauty products and toiletries and discard anything that's basically empty, expired, or no longer a part of your routine. Then, look through the rest of the stuff in your bathroom and consider which items could be stored elsewhere. How many rolls of toilet paper do you really need to keep under the sink? Could you store your extra towels in a closet instead? By moving some things to a different spot, you can organize what you actually need much more efficiently.
2. Utilize the space above your toilet.
Source: @prettyrealblog
If you have an empty wall above your toilet (like most people do), opt for an over-the-toilet shelving unit or cabinet to add more storage. These storage solutions can hold anything that doesn't fit in your vanity—think extra hand towels, toilet paper, and feminine care products. Just promise you'll learn from my mistakes and not drop anything in the toilet when you go to snag something you need.
3. Add a shelf.
Source: @theidentitecollective
Add style and storage with shelves to hold the items that you don't necessarily want on your vanity but don't mind displaying. Skincare products and tools, perfumes, and everyday products like mascara, brow gel, and chapstick make open shelving both aesthetically pleasing and functional.
4. Look for creative space to add storage.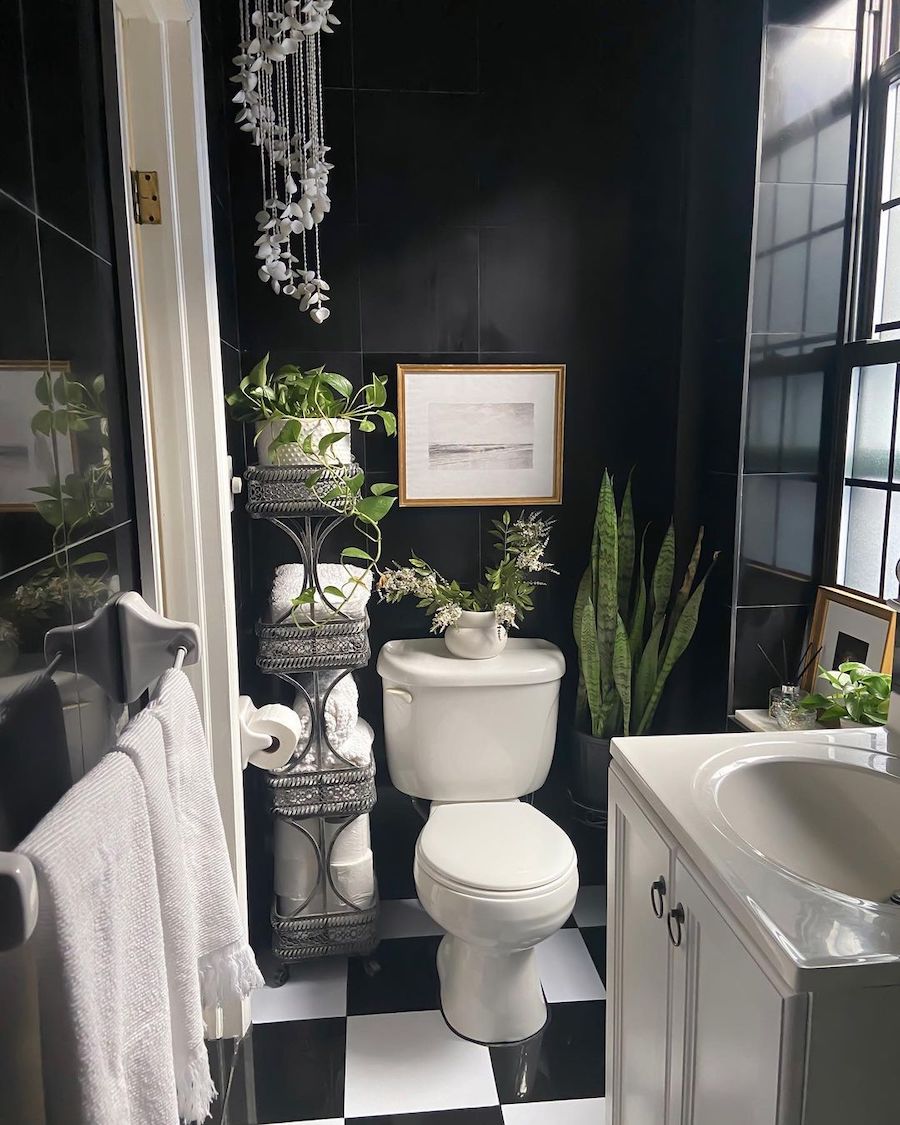 Source: @mycityapartment
With a little creativity, small spaces can become prime real estate for your bathroom essentials. Look for ways you can add storage (even if it is just a little) to maximize your space and minimize chaos. Things like nail polishes, travel-size items, and products you don't use as often but refuse to part with are perfect for these tucked-away storage spots. Is there an empty corner you could fill? Maybe some over-the-door storage containers? Small spaces are an opportunity to flex your creativity and hack your space.
5. Organize the space you have.
Source: @sunnycirclestudio
If you are lucky enough to have a linen closet or drawers, make the most of them with bins, baskets, and/or acrylic organizers. These places are meant to be functional, but you have to figure out how to make them work for you—no matter their size. Otherwise, you will end up with catch-all spaces that are impossible to find anything in. When items are strategically arranged, you will be surprised at what you can fit and how nice it is to be able to actually locate what you need. 
6. Add shower storage.
Source: Target
Do yourself a favor and invest in some shower storage. Sure, you can leave your shampoo bottles on the corner of your tub, but why would you do that when you can keep them from constantly falling over? Personally, I have had the exact shower caddy shown above for years (which I love), but depending on the size of your shower and the items you need to store, there are dozens to choose from.
7. Use hooks.
No spot to hang your towel? No problem. Hooks are one of the easiest (and least expensive) additions, and they make a huge difference in the overall functionality of your bathroom. Add a few hooks for hand towels, your coziest robe, and your bath towels, and your bathroom will instantly feel more put together and organized. Plus, you won't ever have to worry about accidentally warping the wood of your door because of the wet towel you constantly have hanging over it.
The post 7 Smart Ways To Maximize Your Bathroom Storage appeared first on The Everygirl.