An IKEA Kitchen Designed from the Inside-Out with Rev-A-Shelf Cabinet Organizers
No more blind cabinets and climbing on counters for this homeowner.
We often blame lack of organization on having too much stuff. However, when it comes to kitchen organization, the problem often comes down to faulty kitchen design. Once you've pared down the pie plates, souvenir cups, and expired spices, everything must be categorized and—most importantly—accessible.
IKD customer Patricia was sick and tired of trying to maneuver in her vintage kitchen. It had three blind corner cabinets and an over-the-fridge cabinet.
"My mother suggested I put rarely used items in the hard-to-reach spaces, but it was starting to feel like all of my cabinet space was hard to reach. I practically lived on the step stool, trying to get to items stacked above the cabinets or taking snacks off the top of the fridge to get to the lightbulbs and water filters. The baking cupboard had a recess I couldn't reach without taking everything out, as did the cabinet below it. My husband hardly spends any time in the kitchen, so he doesn't have to deal with it.

He finally agreed to a kitchen remodel when he found me standing on the counter at four months pregnant trying to find the extra potholders." –Patricia, IKD customer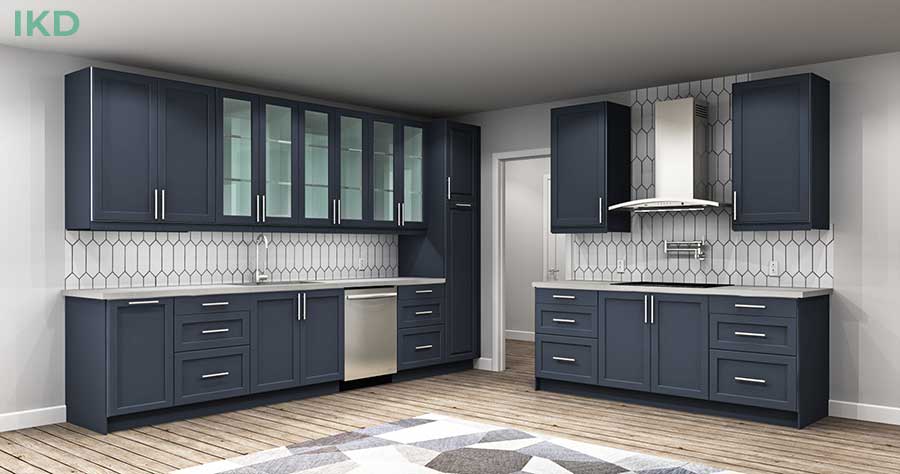 Patricia found IKD while searching for kitchen design ideas.
"If we were going to do this, I wanted to do it right. I started thinking about how I move in my kitchen, what I use regularly, and what bothers me the most. Jumbled spices are up there on the list, and so was digging through bottles of dish soap and cleaner to find a new sponge under the kitchen sink. I found Rev-a-Shelf through Google and then an IKD blog on a Rev-a-Shelf pullout organizer.

Again, I was four months pregnant, so when I saw that IKD designed kitchen layouts and included the organizers in the design, I was sold. I was more than happy to hand off the designing to them and get back to nursery décor. Since they use IKEA, I was confident the project would be affordable." –Patricia, IKD customer
Patricia was so frustrated with the state of her kitchen that she'd barely thought about how she wanted it to look. Designer Meyer decided to play off the design Patricia had initially found on the IKD blog, Designing an IKEA Kitchen With Rev-A-Shelf's Filler Pullout Organizer, and create an IKEA kitchen design unique to her space.
"Patricia liked the AXSTAD blue matte doors and drawer fronts in the kitchen design she referenced. Since she hated blind corners, we designed the space to have no corners at all, only straight runs. Organization was the main goal of this design, so we didn't hold back. You'll find six Rev-A-Shelf organizers in this design." –Meyer, IKD designer
We provide clarity for your IKEA Kitchen design journey
GET STARTED
Rev-A-Shelf makes use of every inch of cabinet space.
Patricia might not have given much thought to the aesthetics of her kitchen, but she had a plan for how she wanted to store most of her items. These included a spice rack that wouldn't take up counterspace, pullout garbage bins, drawers for larger items, and at least one pull-down device for her baking supplies. Also: no over-the-fridge cabinets.
Meyer designed with all these conditions in mind and included the following Rev-A-Shelf internal organizers:
• Adjustable door mount spice rack.
"This spice rack is adjustable, so Patricia can make it work for any height spice or seasoning. Since it's mounted on the inside of an upper cabinet door, it doesn't take up counterspace and is easily accessible. I also made sure to place it near the stove so she can use and replace the spices and seasonings as she works."
• Pull down shelf.
"Patricia had found this Rev-A-Shelf product on her own and wanted it incorporated into her IKEA kitchen design. It allows her to make full use of the cabinet space but pull everything down to a more accessible level. I placed it at the end of the cabinet run where there was ample room to work."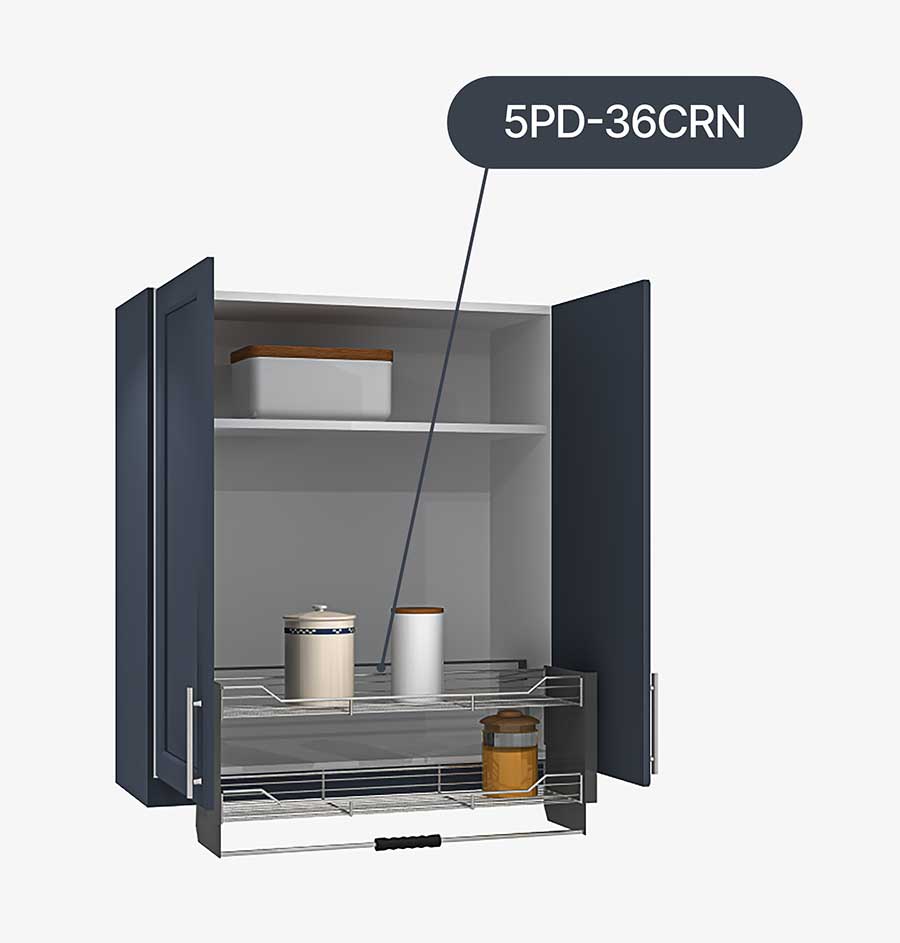 • Pullout shelves.
"I designed the space under the stove top with two solid bottom pullout shelves, perfect for pots and pans and other large items.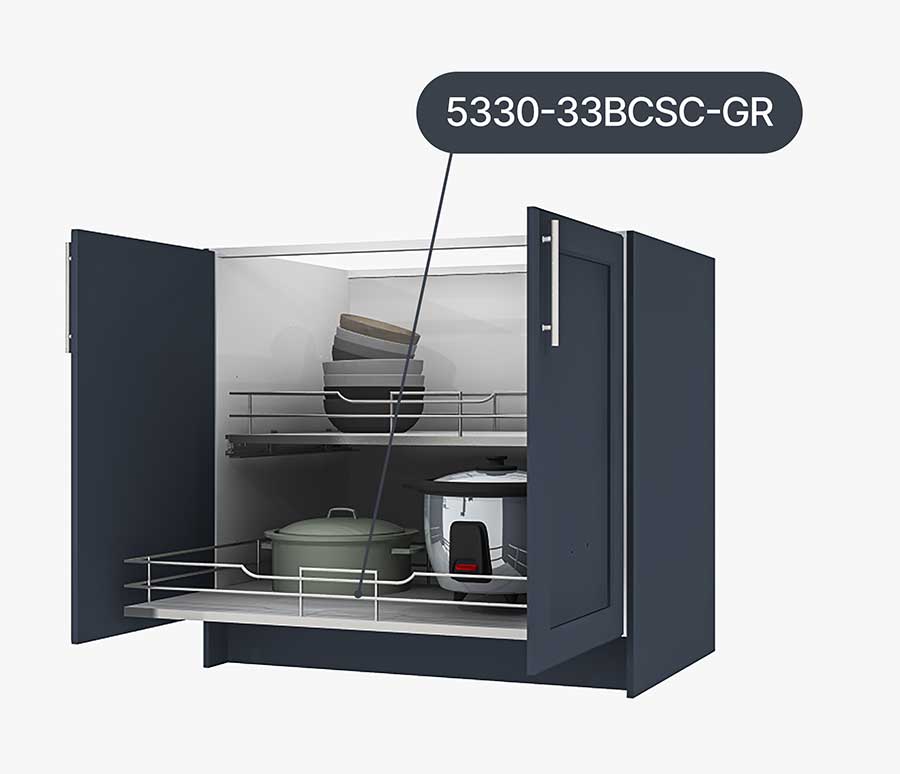 We also turned the tall cabinet into a pantry using the wood pantry pullout. It gives Patricia five adjustable shelves she can access just by pulling on a handle.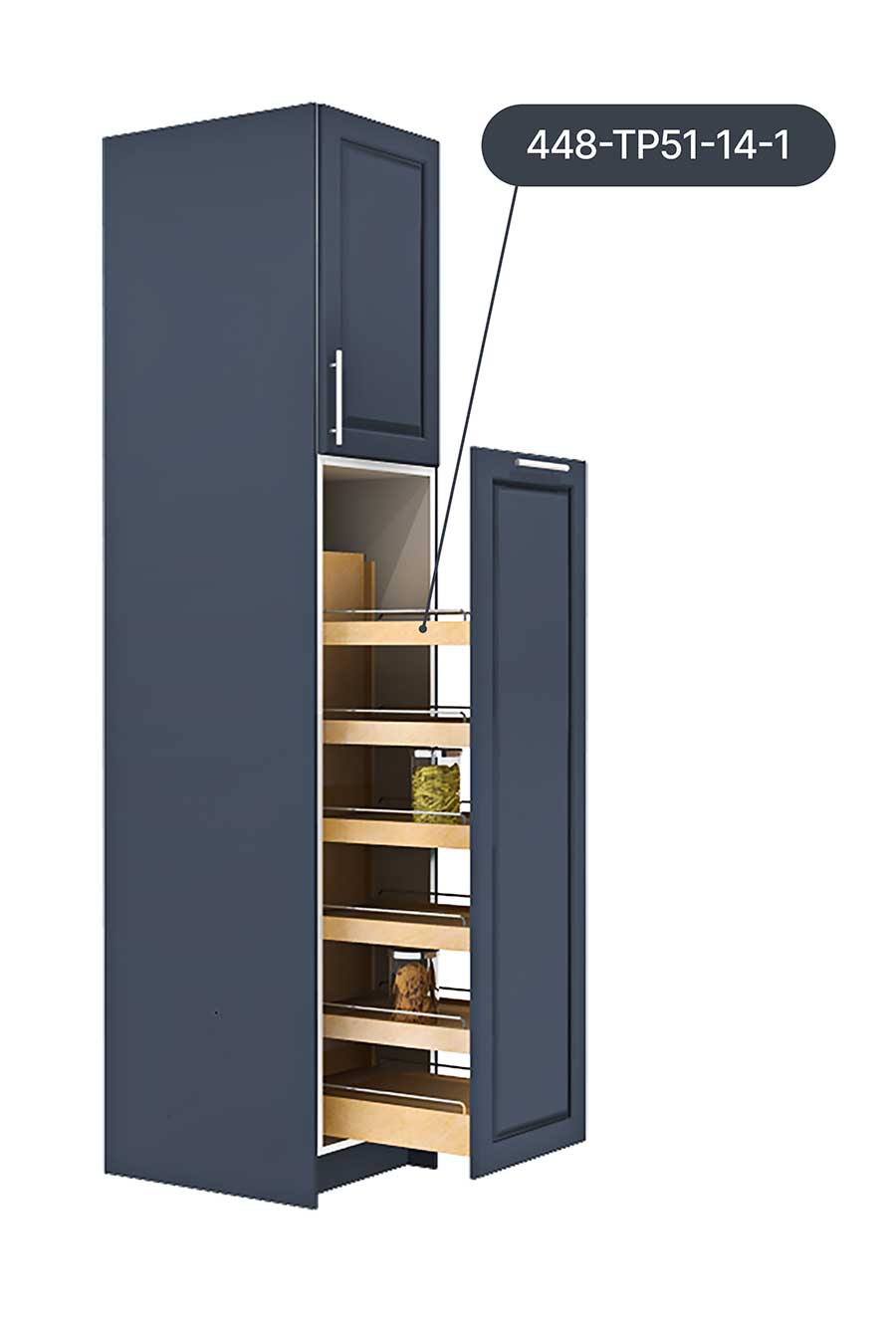 It's a great way to prevent items from getting lost in the back of a cabinet, as is the U-shaped shelf we placed beneath the kitchen sink."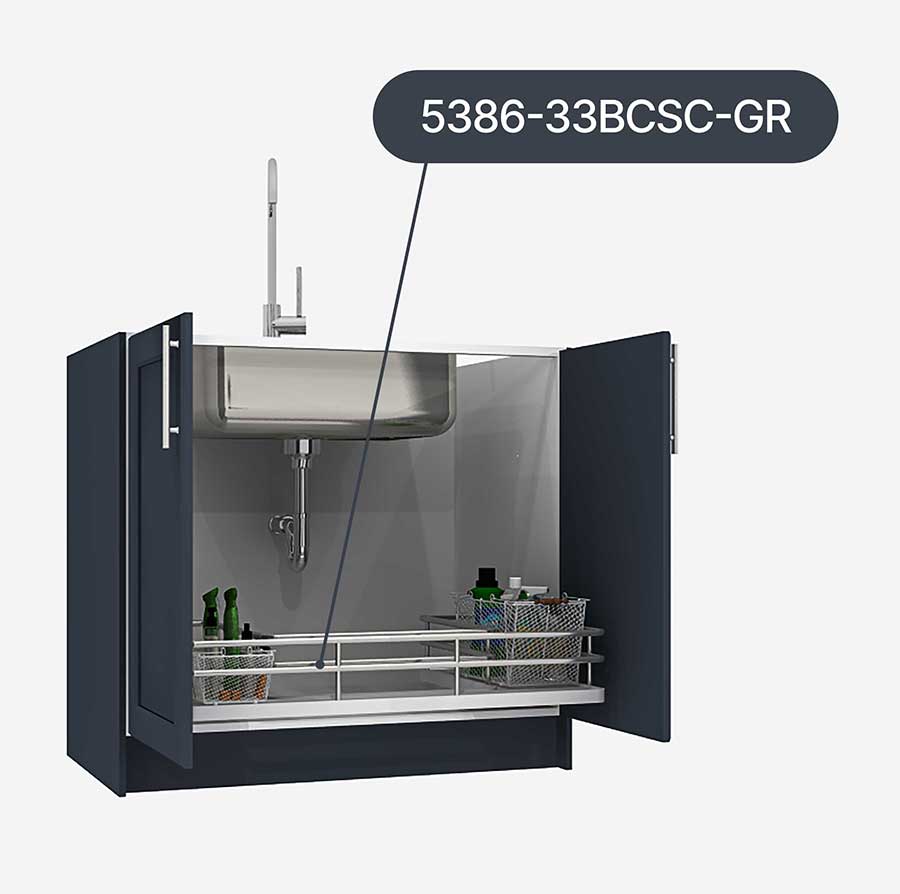 • Bottom mount waste container.
"We like to design pullout waste bins with an easy-to-clean metal frame, and Rev-A-Shelf delivers. We typically design them near the kitchen sink and prep areas, so it's accessible when customers need it most."
IKD designs IKEA kitchen cabinets from the inside out.
A successful IKEA kitchen design is functional as well as beautiful.
Meyer designed Patricia's kitchen with a total IKEA cabinet cost of $5,400.
Other IKEA items (used for installation and IKEA hacks) totaled $823.
Rev-A-Shelf organizers totaled approximately $2,590.
Patricia revamped her entire kitchen for less than $9,000!
"I don't dread cooking dinner anymore. My priority was organizing the space, but I love how it looks, too. Meyer asked questions and made suggestions to ensure I was just as happy with the outside of the cabinets as I was with the inside. Thanks, Meyer and IKD!" –Patricia, IKD customer
Get a Professional IKEA Kitchen Design – All Online
Work with our certified kitchen designers to get a personalized kitchen designed around your needs and vision. If you're interested in learning more about our service, make sure to check out our IKEA Kitchen Design Services.