How To Organize A Spice Drawer
Spices are simply a must-have in the kitchen! With their unique blend of aromas and flavor profiles, they can truly elevate your dishes and bring them to new heights. Storing and organizing these little gems can be quite the challenge, particularly if you have a vast collection of spices. 
But fear not, friends! By keeping them tidy and organized you'll not only free up precious counter space, but you'll also protect them from pesky heat and light, ensuring their flavors and freshness for longer periods of time. ( Because after all, spices can get expensive!!! ) And finally, let's not forget, a beautifully organized spice drawer display is visually stunning and oh-so-inspiring, making you want to cook up a feast in your kitchen any chance you get. 
Join me as I share my top tips and tricks for perfectly organizing your spices, so you can keep them at your fingertips and your kitchen in tip-top shape! ( Oh! And if you haven't, I highly recommend checking out my affordable pantry organization, you can get some great organizing inspiration there! )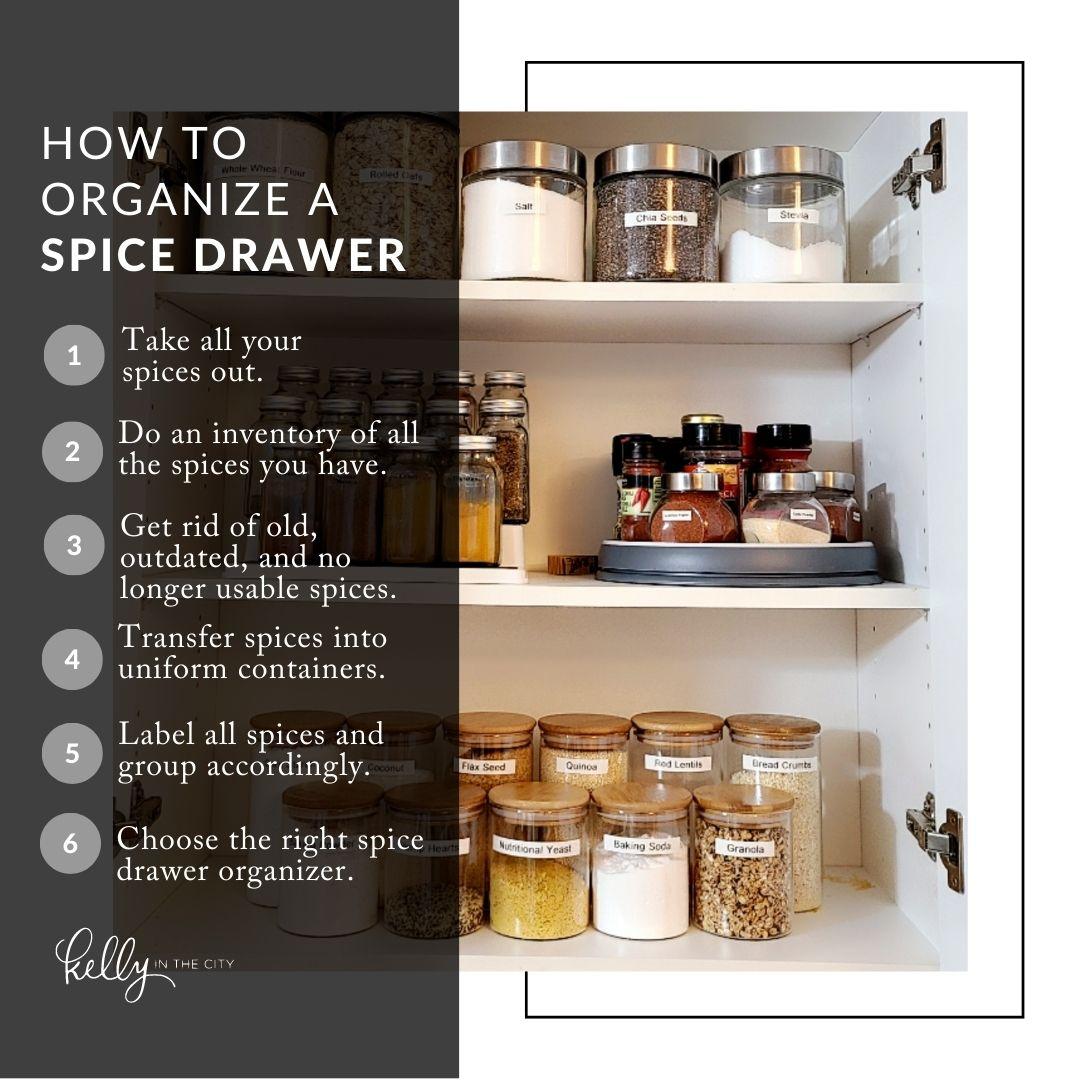 How To Organize A Spice Drawer
Step 1: Take all your spices out.
First things first, get all those spices out of the drawer and onto a flat surface where you can see them all. If you're like me, you're going to be surprised by how many spices you already have! 
During this step, you can also start to sort out your spices. Pick out the outdated ones and start grouping the like ones together. If you have a couple jars of the same spice, put them together, because later you're going to combine them into one jar. And no, you won't be judged for having more than one of the same spice open. ;)
Step 2: Do an inventory of all the spices you have. 
Now that you can see all your spices, take inventory! See which spices you already have, which you'll need to replenish your supply of, and which you simply never use. 
You can take a quick inventory with a pad and paper, or simply lay all your spices out in an organized fashion.
Step 3: Get rid of old, outdated, and no longer usable spices. 
Now that you see what you've got, go ahead and toss any old spices. These can include expired, outdated, discolored, clumpy, and even those older spices that you found tucked in the back of the drawer. Check out this article by Healthline to double check the shelf-life of your spices and for more information on how to tell if they are going bad.
When you are finally set with the spices you want and need, the best part comes. Shopping! Or finally unboxing that organizing set you got on sale forever ago. 
Step 4: Transfer spices into uniform containers. 
To get all your spices to fit neatly in your spice drawer, I recommend transferring your spices to uniform containers like these. Clear, uniform spice jars will take your spice organization game to the next level. You'll be able to clearly identify each spice, as well as know when you're getting low and need to pick up some more. But most importantly, it's soooooo aesthetically pleasing!!!
Step 5: Label all spices and group accordingly.
For maximum efficiency and organization, label all your spices and group them accordingly. Some possible ways to organize your spices are: alphabetically, in order of use, by color, and by type of spice. If you're crafty, find a template online and print out your own labels. But for those who aren't all that crafty or just want to get the job done, these Savvy & Sorted labels are phenomenal and waterproof for easy cleaning!
Step 6: Choose the right spice drawer organizer.
Finally, before you put all those spices back in the drawer and risk them becoming a disorganized mess again, I recommend investing in a spice drawer organizer. There are TONS of spice drawer organizers to choose from on Amazon in all shapes, styles, sizes, and colors. Below, I have rounded up my ten favorites!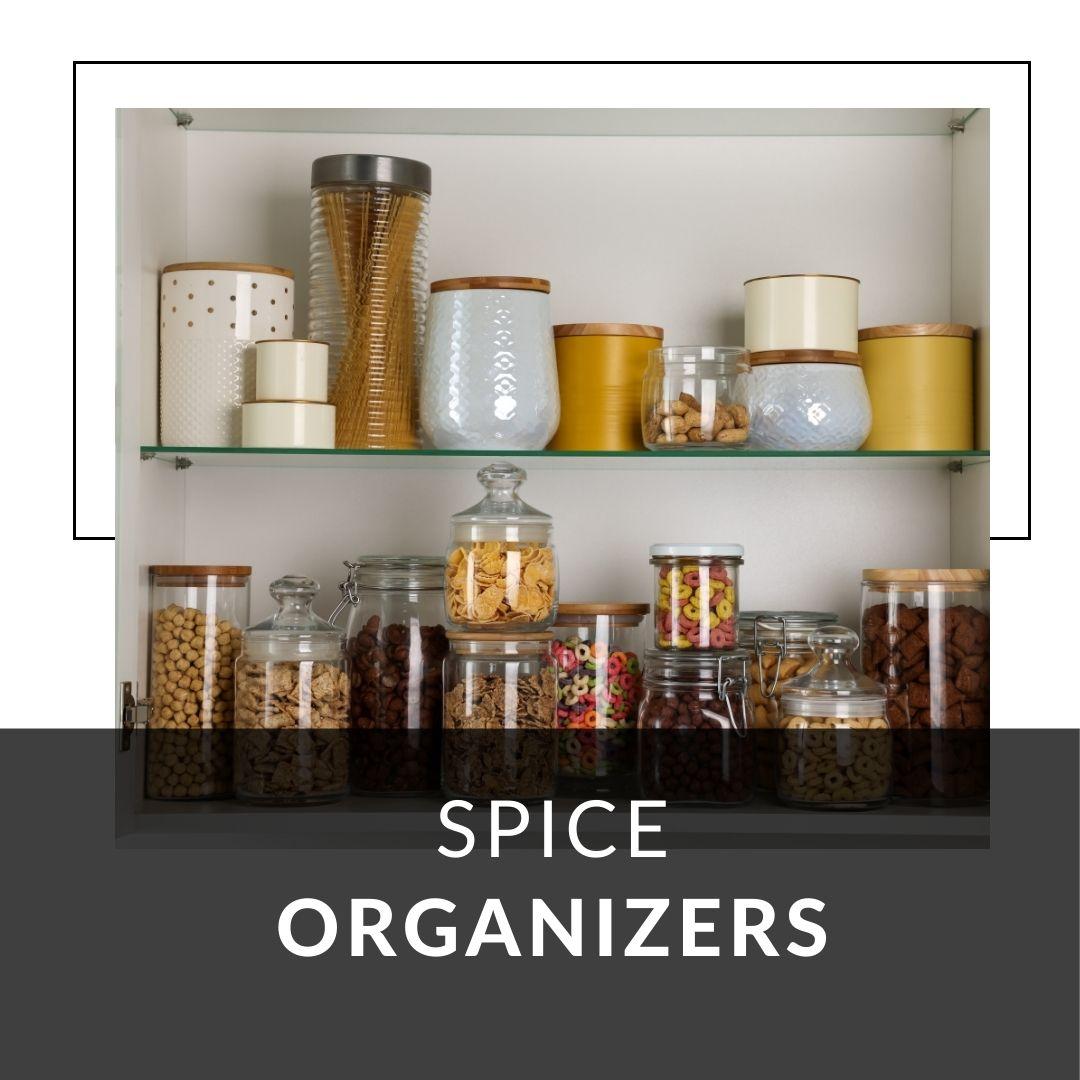 Spice Organizers
When it comes to spice organizers for kitchen drawers, I'm a big fan of the natural bamboo look. I just love the modern and homey feel of wood kitchen accessories. In addition to my favorite bamboo drawer organizers, I have also included some other good designs that vary in shape, size, design, and color. And some that go beyond just the drawer. For more of my favorite kitchen appliances, accessories, and more, shop my Amazon store HERE. And, feel free to shop the post below! :)
This all-in-one bamboo spice organizer kit comes with everything but the actual spices. It is 3″D x 12″W x 17″H, perfect for those small, but still deep drawers. It holds up to 18 different spices and the kit includes the organizer, 20 Spice Jars with bamboo lids, 3 types of pre-printed labels, a marker, and a collapsible silicone funnel for refilling. 
This smooth, polished bamboo spice rack tray is both elegant and stylish. Not to mention – durable. Since it's on the wider side, a full 26 inches across, it works best in wider drawers and it can hold a whopping (64) 4 oz jars. Love it! Its tiered rack design makes it super easy to view each and every spice. 
If your spice selection consists of just the essentials you crave, or possibly you don't have enough space for the Mulush spice rack tray, this expandable option is perfect. Its unique design makes it easy to customize the size and have a perfect fit anywhere you want your spices to be. Both sides can expand out to 21 inches or be compacted down to 10.5 inches. What I love most about this organizer is that it accommodates more than just my spices! I found it so convenient to throw my measuring spoons right next to the spices!
Ever considered storing your spices on your fridge? There are so many clutter-free uses for these organizers. Nail polish, cleaning products, sauces, and obviously spices. The magnetic hold that this spice rack has is mind-blowing. It can hold 6.5 pounds, which, when you think about it, quality spice containers weigh more than standard plastic ones. 
It is wide enough ( at a little over 11 inches ) and deep enough to place 2 rows of containers. But, like I said, quality spice containers have more weight to them and 6.5 pounds can add up quickly. Also, keep in mind that if you are able to fill the rack, you'll want to put your labels on the lids for easy access. 
If you haven't noticed by now, I am all about the convenience and time-savers when it comes to organizing. Oh, and you can never go wrong with the chic look of bamboo. This spice drawer organizer gives you everything you need for this project. You get 24 clear glass spice jars with airtight bamboo lids, in addition to the organizer. 
The spice rack has 3 tiers and the dimensions are 15 inches deep, 2.6 inches tall and 15 inches wide. You get a whopping 378 preprinted spice labels with 22 of them left blank for you to write on. Now, are you ready for the best part? These spice jars come with pour and sift top inserts! To pour those chunkier herbs and sift the finer spices. 
Now here's convenience at its finest. Perfect for sitting out in the open on your counter or easily accessible in a spice cabinet. If you have never sat down in a chair that swivels, you aren't livin' your best life. This luxury looking carousel is compact and requires no installation, ideal for those that love not having to break out the tool box. 
You are going to want at least 13.5 inches of clearance under your cabinet if you are choosing the counter display option. Along with the fact that this revolving spice organizer is peak convenience, it's the whole dang package. 
Let's start with the 20 very minimalistic and sleek, clear spice jars. 340 pre-printed labels with 46 blank labels and personal chalk marker. Sift and pour shaker lids. But, what really sold me on this product… the collapsible funnel! It is an added bonus that I never thought to use for this project. 
If you want more spices in less space, this is it. Perfect for that small cabinet next to your stove! Even though it's tiered, it is designed to keep your spice jars in place and not tip over. You really get the whole package with this one. I thought that 378 labels was enough until I saw that you get 801. YES – 801 labels, plus the chalk marker! But wait, there's more, you get 20 perfectly sized jars too. 
So, pretty much, this heavy duty tiered spice rack is a no-brainer for your kitchen cabinet. If you want to get technical here, the ball bearing allows the spice rack to glide smoothly and fully extend. For perfect storage, make sure you have at least 5 inches across, 10.5 inches deep, and 12 inches of height in your cabinet. And for all of my left-handed besties, there is an option to accommodate you too!
I know there are a few of you lovelies out there that just want the most practical options. Well, I found the perfect solution for your spice organizing needs! This drawer insert takes hiding in plain sight to a new level. Having the same common features as the other products on this list – no installation, expandable, sturdy, and ergonomically designed – this functional and minimalist spice organizer will make staying organized a breeze. 
I can love a little industrial look here and there. Stainless steel gives off "I'll never be replaced" vibes. And don't worry, it has a padded surface so you won't make any clanking noises when you're seasoning up a midnight snack. There are a few size options available, a smaller 10.25 inch width, a medium 13.25 inch width, or the expandable rack. All sizes have 4 tiers. 
Spaces wider than 13.25 inches can take this beauty to double its size! 26.5 inches of pure spice organization. The widest expansion can hold about (7) 4 oz jars per tier. This means that with the 2 spice racks you get, you can store a total of 56 spice jars! And, if you would rather stick to the no-fuss acrylic look, check out this Brippo Spice Drawer Organizer
This is the most customizable option on this list. And if you aren't fully convinced you need to organize your spices, there is no exception with this product. All you have to do is cut the liner ( you get 10 feet in a roll ) to whatever size you need to make fit. You can't go wrong since it even includes its own measuring tape!
If you are sitting there wondering "Kelly, how is a piece of liner going to organize my spices?" With the grip this liner has, you can booty bump that drawer closed all you want and all of your spices will still be neatly placed. And honestly, what's better than an organizer that requires NO installation, NO sticky stuff and NO need for hardware?!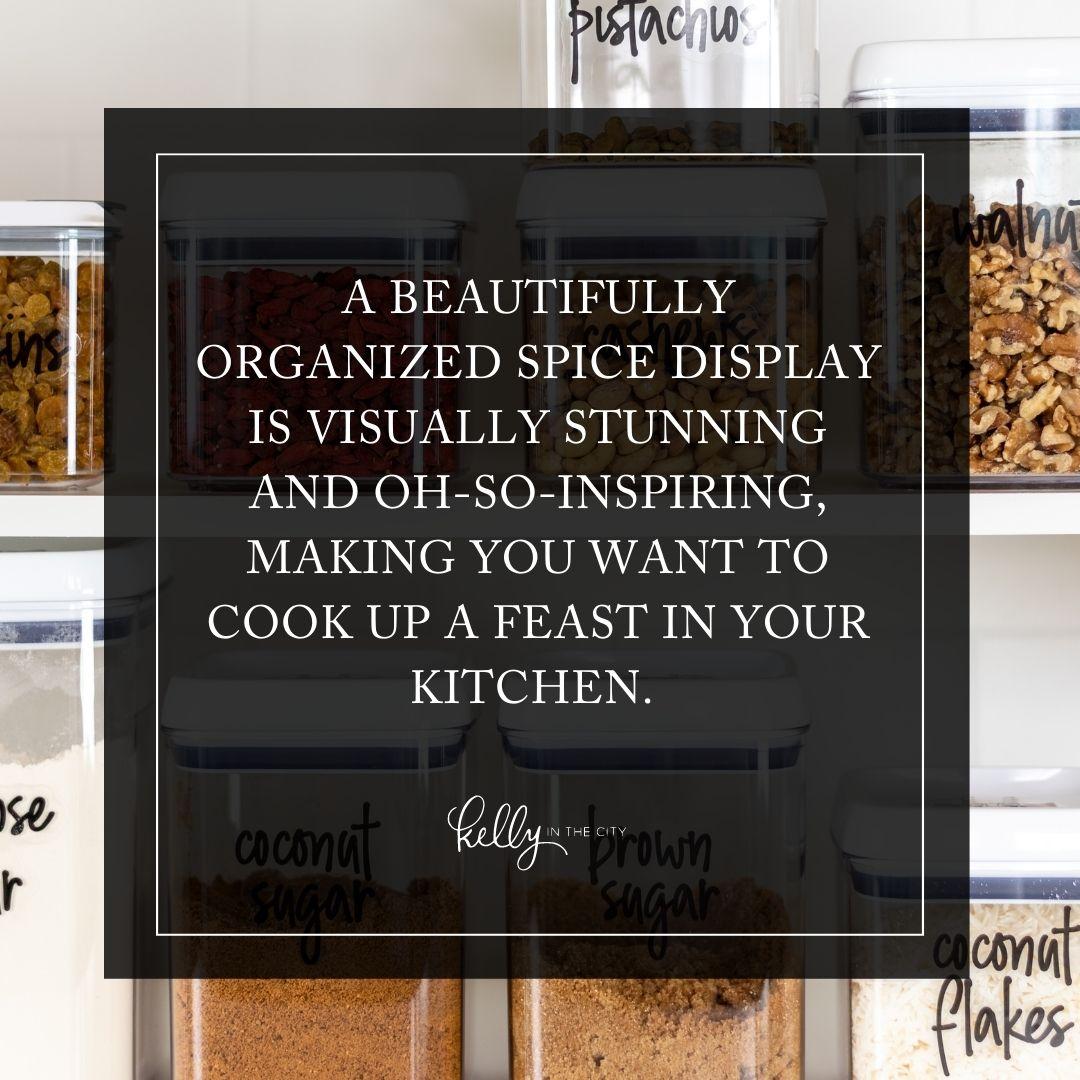 What are your best tips for getting your spice drawer organized?
I hope you've found these tips and products helpful in creating a beautifully organized spice drawer. Remember, a well-organized kitchen saves you time and stress when cooking, but it also makes it all the more enjoyable and inspiring. So, take some time to clean out your spice drawer, decide what to keep, transfer your spices into uniform containers, and prepare your spices for the ultimate organization. 
Now, it's your turn to put these tips into action! Show off how you organize your herbs and spices and tell me all about it!!
The post How To Organize A Spice Drawer appeared first on Kelly in the City.