IKEA Bathroom Designs That Emphasize Storage
These homeowners maximized storage in small spaces using creative IKEA designs.
If you're reading this, it's safe to assume you're not happy with the current state of your bathroom, and you're not alone. Bathrooms are often an afterthought in architecture: "Okay, now where can we fit a toilet?"  This kind of thinking often results in awkward—or non-existent—storage solutions.
After all, a 1.5-bathroom house is a 1.5-bathroom house, even if the half-bath is awkwardly placed under the stairs and the full bath has no closet. Here are a few ways our customers have used creative design solutions to fall in love with their bathrooms again.
A well-designed cabinet layout takes the place of a linen closet.
One customer from Ontario had the problem of a full bathroom with nowhere to put the towels. Previous owners had shoved a wardrobe in the corner of the room and decided the solution was good enough.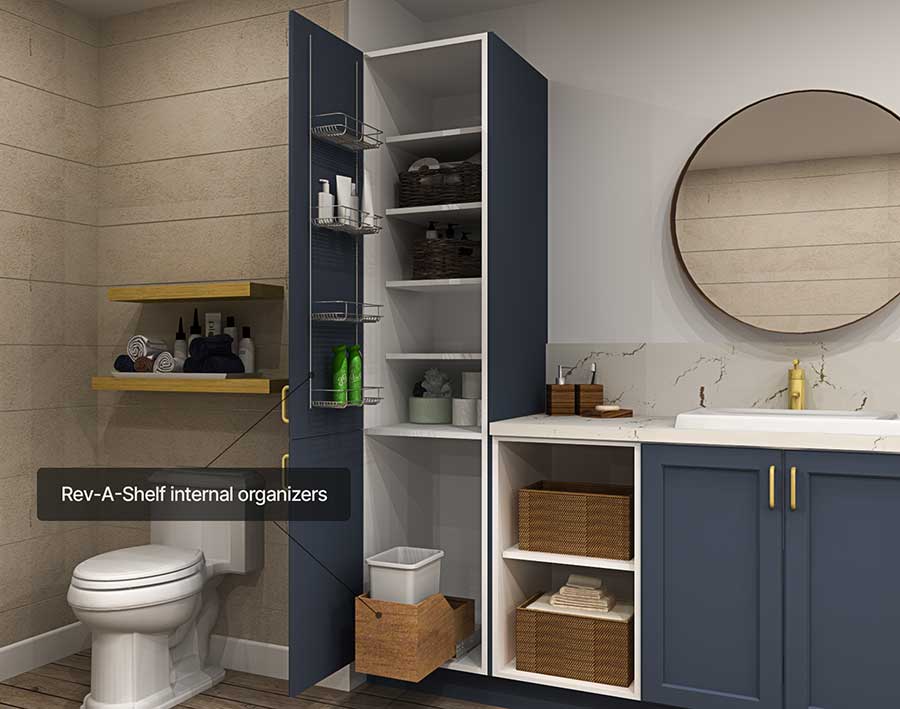 "The bathroom was ugly, but I saw the potential for a better layout.I pulled out everything I could while still having a working bathroom and repainted the walls. My mother took me to IKEA to look at cabinets and fixtures, and I saw a lot of stuff I liked. I fell in love with these blue cabinet doors. But honestly the whole process just gave me a headache. I found IKD while browsing online, and they made the process way more simple." –Kristen, IKD customer
The doors Kristen loved were the AXSTAD blue doors, which IKD designed in conjunction with IKEA Sektion cabinets.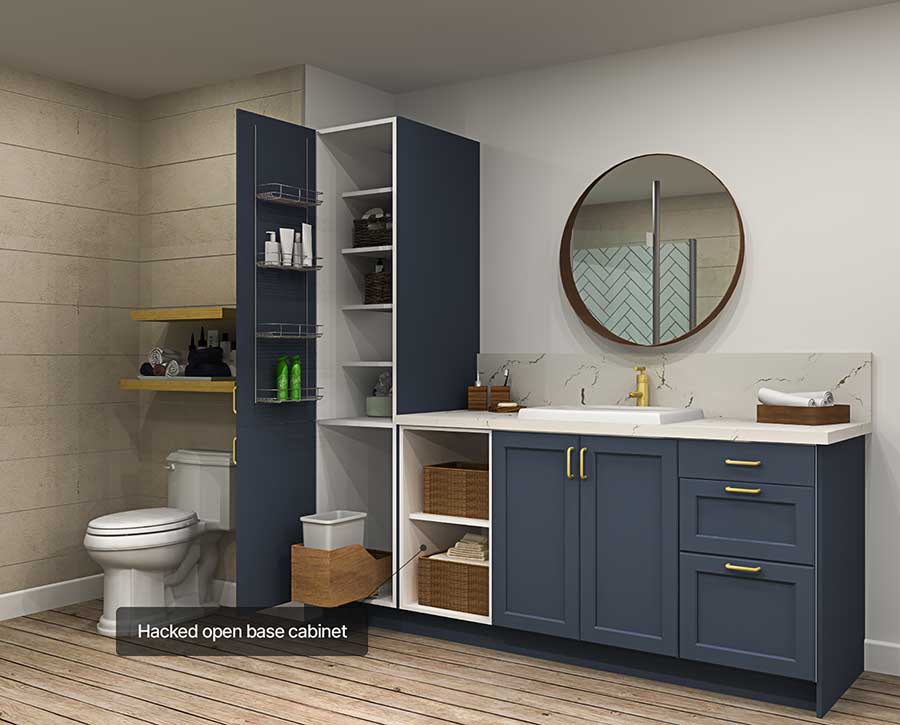 "We gave Kristen an 84" tall cabinet with five shelves in place of a linen closet, and we maximized the storage with a door- mounted organizer and pull-out trash can by Rev-a-Shelf. We used matching 36" cabinets beneath a 66" wide countertop, so the combination looked like a single unit. She also wanted storage behind the toilet, which we achieved with two floating bamboo-toned shelves from Semihandmade. We suggested BAGGANÄS handles in brass to complete the look."–Frank, IKD designer
The cabinets were kept at the same height as typical kitchen cabinets due to client preference, and installing the door-mounted organizer required reducing the depth for the top three shelves of the tall cabinet to 16" deep.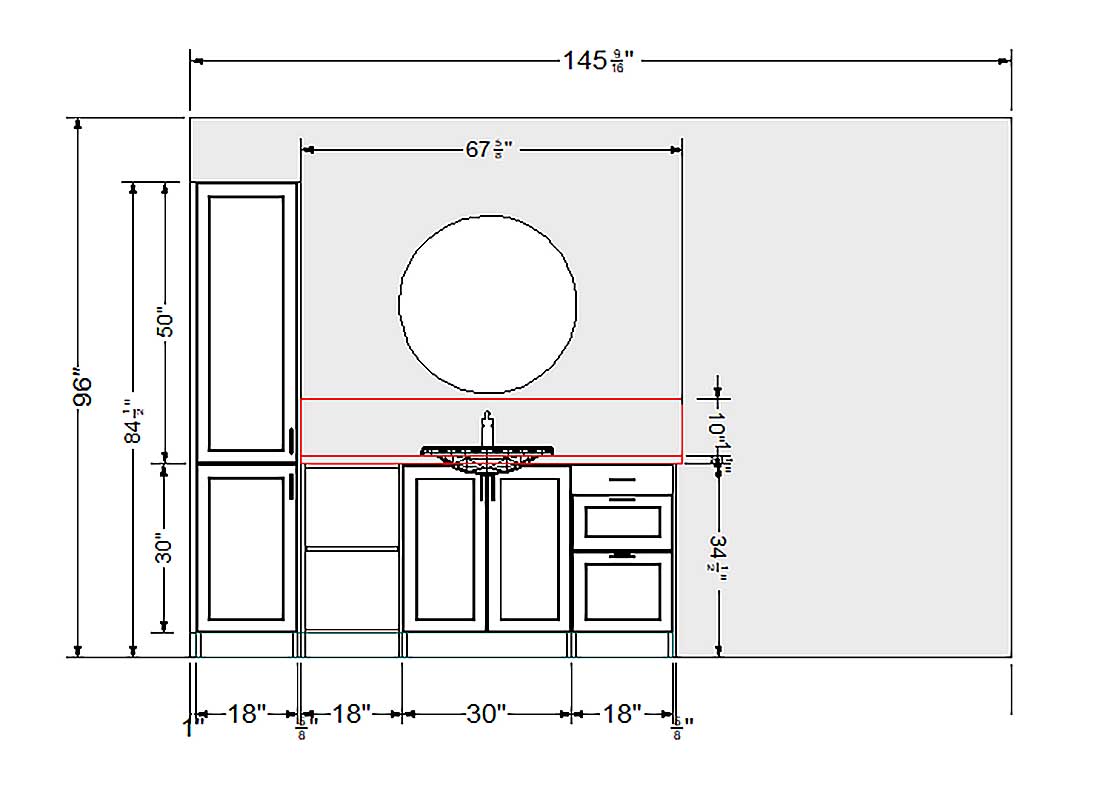 "I grabbed a few organizers and a mirror I liked from IKEA, and that pulled the whole look together. I can roll the trash can out with my foot—I don't know if you're supposed to, but I do—and I use the open cabinet so guests can easily see where to find towels and washcloths. I have enough space for all my things, and it looks beautiful."–Kristen, IKD customer
We'll Design Your Ideal IKEA Bathroom Easily, Affordably, and Online
Our IKEA Bathroom Design Package is everything you need to complete your new bathroom with confidence.
GET STARTED TODAY
Kristen's IKEA shopping list for her remodel came to $1555.
She spent $1,523 on IKEA cabinets and items needed for installation and $32 on handles and drawer pulls. To finish the renovation, she chose an installer from Install Connect.
Creative design saved this couple's storage capacity.
A New Jersey couple remodeled their bathroom to make more sense as they age in place. However, it meant giving up quite a bit of storage space—or did it?
"We knew we needed a large, walk-in shower, but that didn't leave much storage space. My wife uses a walker and may need a wheelchair someday, so we wanted a lower counter height and shelves or cabinets with easy access. We'd used IKD once before to design our kitchen, so I looked them up right away."–Scott, IKD customer
IKD designer Merari excels in practical solutions. She created a perpendicular half-wall of 12" deep Tahoe-style floating shelves from Semihandmade that fit snugly between the wall next to the vanity and the shower door frame.
"Scott and Cathy liked the idea of adding extra privacy with the half-wall as well as more shelving. I kept the new vanity low and the shelves open so Cathy didn't need to move her walker out of the way to get what she needed." –Merari, IKD designer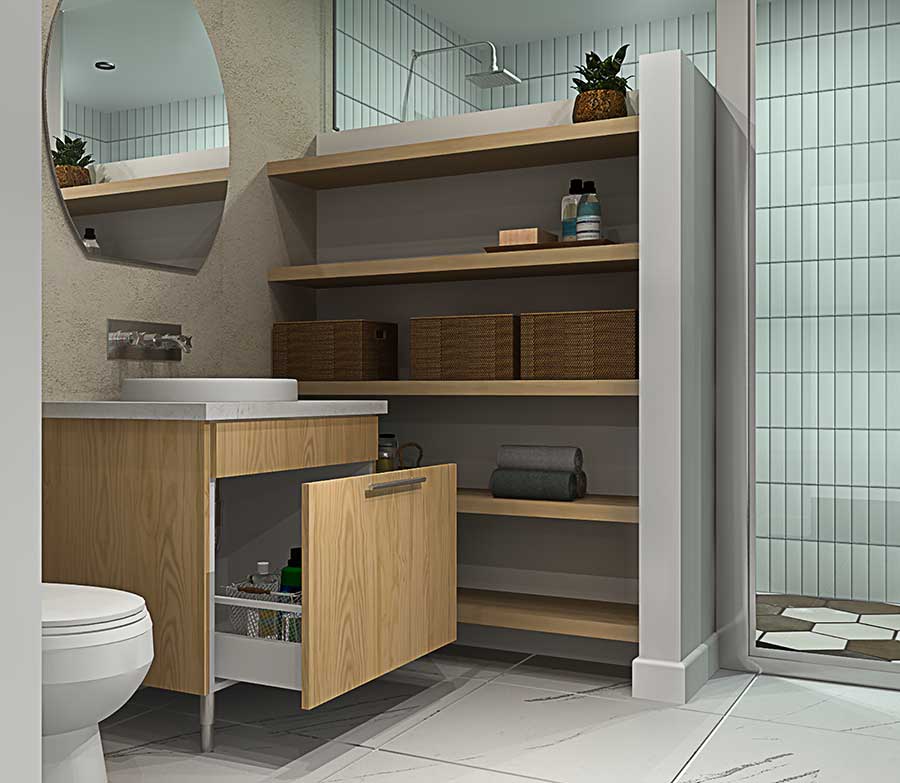 Merari hacked an IKEA cabinet frame that was originally 30″W x24″D x 30″H so that it would measure 30″W x 21″D x25″H. This allowed her to use a 30″W x17 3/4 "D MAXIMERA drawer and ensure the couple had access to the five floating shelves by Semihandmade. They chose GODMORGON legs to support the vanity and a white LILLTRÄSK countertop.
"We're very pleased with our design. It's made using the facilities easier for my wife, and the natural wood look is something we enjoy. Cathy feels comfortable holding onto the shelves for support when she needs to get something from the drawer." –Scott, IKD customer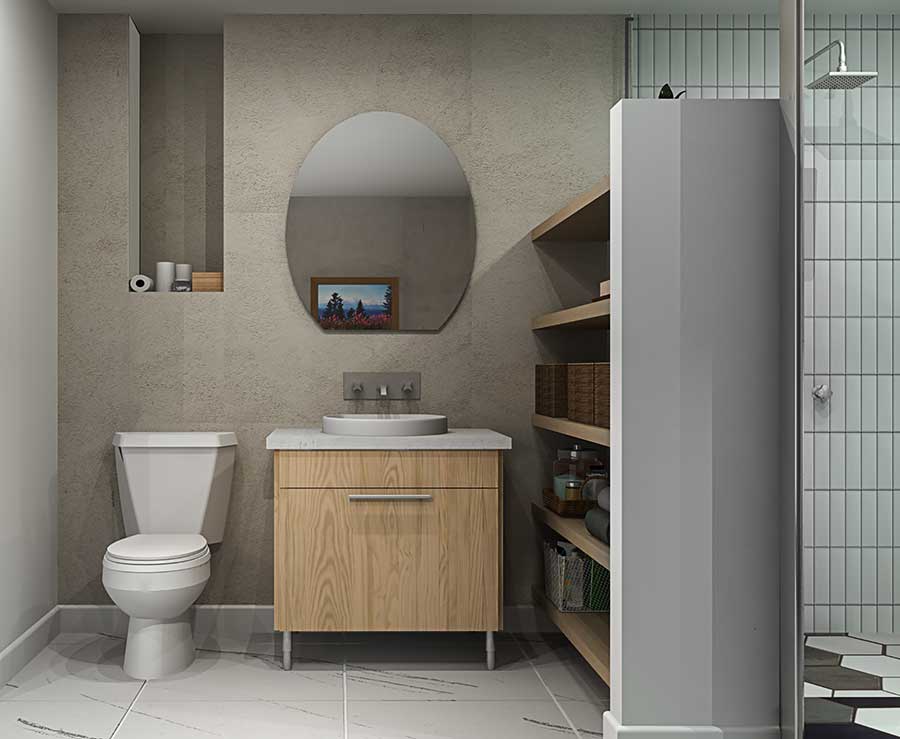 The couple spent $205 on IKEA cabinetry and $52 on GODMORGON legs. The total IKEA cost for this aging-in-place cabinet design came to $257.
When designing storage for small bathrooms, you need a designer that considers its use.
IKEA has great products, but sometimes their mass-produced cabinets and drawers don't quite fit the way you need them to, don't match, or lack an organizational element. Designing with cabinet hacks and supplemental items from Semihandmade and Rev-a-Shelf can turn an "okay" IKEA design into an amazing (and functional) IKEA design.
Get a Professional IKEA Bathroom Design – All Online
Work with our certified designers to get a personalized bathroom designed around your needs and vision. If you're interested in learning more about our service, make sure to check out our IKEA Bathroom Design Services.